Baked Potato Soup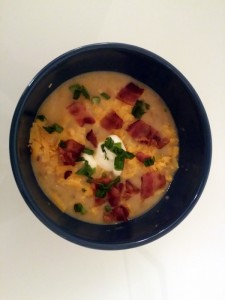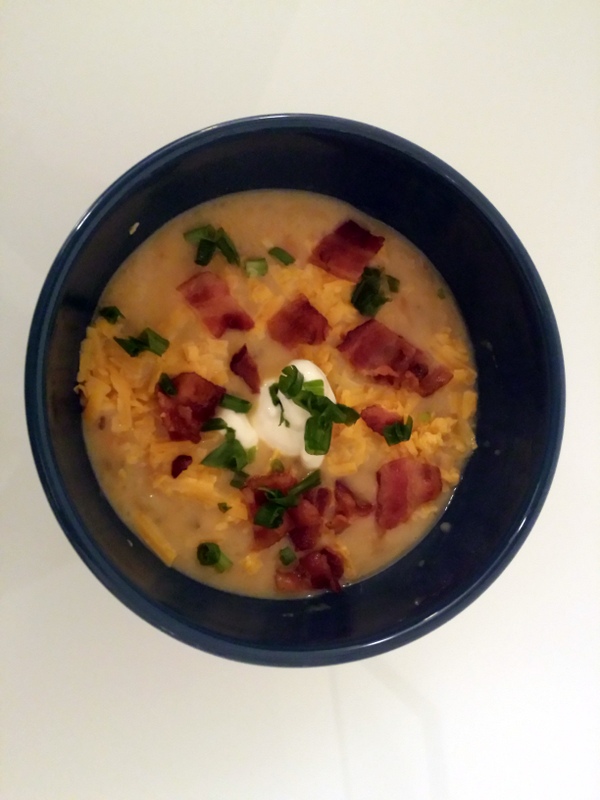 Leftover baked (not boiled) potatoes are a huge time saver.  No roux, slurry or béchamel required for this super easy bowl of happiness.   Each person can still customize flavor toppings as if personalizing his or her baked potato.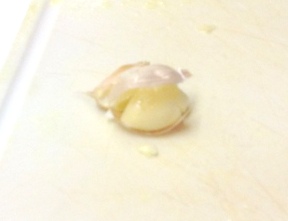 Baked Potato Soup
This recipe comes together quickly with leftover baked potatoes and the usual suspects of sautéed onion, celery and carrot, or 1 container of Trader Joe's Mirepoix.  After Shane left for Hong Kong, I often made this soup on Sundays in preparation for Monday night dinner after a long day at work and school.
Jump to Recipe
Ingredients
2

russet potato

,

scrubbed

8

strips bacon

1

onion

,

diced

2

celery stalks

,

diced

2

carrots

,

diced

6

garlic cloves

,

minced

1

quart

chicken broth

4

bay leaves

1

teaspoon

sea salt

1/4

teaspoon

black pepper

1

teaspoon

dried parsley

3/4

cup

cheddar cheese

,

shredded

1/2

cup

whipping cream
Toppings that make the difference!
1/2

cup

green onions

,

diced

1/2

cup

sour cream

1/2

cup

cheddar cheese

,

shredded

cooked bacon

,

rough chopped
Instructions
If you don't have leftover baked potatoes and need to cook them, set oven to 375 Fahrenheit. Rinse and scrub potatoes, prick potatoes with a knife in few places and then place directly on rack and bake for 1 hour.  Once cool enough to handle, cut potatoes into large chunks keeping skin in tact.  Place bacon on foil lined baking tray (in the same oven with potatoes) and cook until crisp, approximately 10 minutes.  Reserve and set aside 2 tablespoons bacon grease.  In large soup pot, add bacon grease, onions, celery and carrots and cook on medium low heat for 6-10 minutes until soft and onions become translucent but not brown.   One at a time, place a garlic clove on cutting board, place heavy knife on clove sharp side pointing away (see picture) and pound the side of the knife with your fist. The paper of the garlic will jump off and then you will have a smashed yet whole clove of garlic.  To the pot, add the garlic cloves and bay leaves, cook until fragrant (about 30-60 seconds).  Add chicken broth, dried parsley, salt, few grinds of pepper and potatoes.  Depending on the size of your vegetables, you may need to add 1 cup of water to ensure that all vegetables freely boil.  Bring to a boil, cover with lid and reduce to low simmer for 30 minutes.   Turn off heat, remove bay leaves.  Emulsify a few quick pulses to get a nice consistency preferably still with a few identifiable chunks.  Add whipping cream and 3/4 cup of the shredded cheddar cheese.   Adjust salt & pepper to taste.  Turn heat to low and gently stir to ensure that cheese is melted and cream is incorporated, about 2-3 minutes.  Garnish with diced bacon, cheese, sour cream and green onions.
---