Smoky Hummus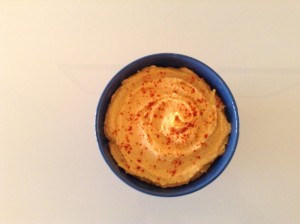 Smoked paprika pushes the otherwise standard hummus recipe over the top!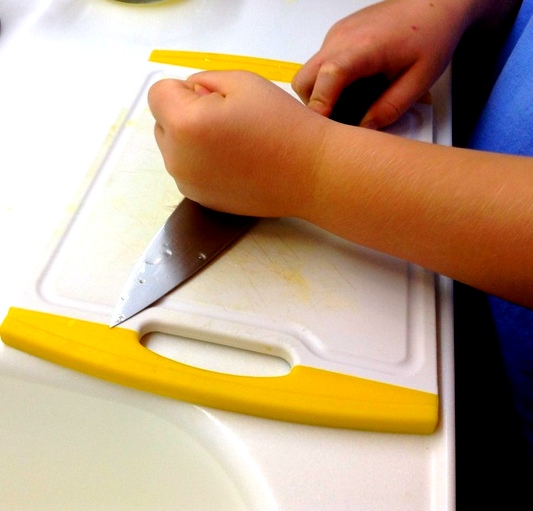 Smoky Hummus
When my husband and I first started dating, he was famous for showing up at family events with hummus.  My extended family didn't know his surname, but just inserted "hummus," instead.  Over the years, we continued to tweak the recipe, never measuring but instead working from taste.  The ingredients always included garbanzo beans, tahini, garlic, lots of lemon juice and olive oil. Finally with the addition of smoked paprika.. our mission was complete!   I love toast with a smear of hummus and sliced cucumber for a snack. Olivia's favorite school lunch is a hummus wrap, which is hummus spread on a tortilla topped with crunchy veggies such as cabbage, bell peppers and cucumbers.
Jump to Recipe
Ingredients
2

cans

garbanzo beans

,

drained and rinsed

2

lemons

,

juiced

1/4

cup

extra virgin olive oil

2

tablespoons

tahini

4

garlic cloves

,

smashed

1

teaspoon

smoked paprika

1

teaspoon

sea salt
Instructions
The reason for pureeing the first can of beans with the other ingredients is to ensure that the garlic is entirely pureed, nothing worse than biting into a bit of raw garlic.   Then, after adding the second can, you can monitor for the desired texture.  We like ours with some texture.

One at a time, place a garlic clove on cutting board, then place heavy knife on clove sharp side pointing away (see picture) and pound the side of the knife with your fist. The paper of the garlic will jump off and then you will have a smashed yet whole clove of garlic. In a food processor, add the 1st can of drained beans along with remaining ingredients.  Pulse until very smooth.  Then before draining the 2nd can, reserve 1 tablespoon of the bean liquid.  Drain remaining liquid.  Add 2nd can of beans along with the reserved bean liquid.  Pulse to desired consistency.   If still too thick, add 1-2 tablespoons of water as needed.  Please note, the garlic flavour will strengthen within a few hours.  If it still seems too much like wallpaper paste, try another squeeze of lemon juice.  Sprinkle with more smoked paprika for garnish.
---