Cinnamon Rolls
Gooey, squishy, luscious -obviously. Kind of ugly, but sexy ugly.
So delicious…hot out of the oven and then smeared with cream cheese frosting.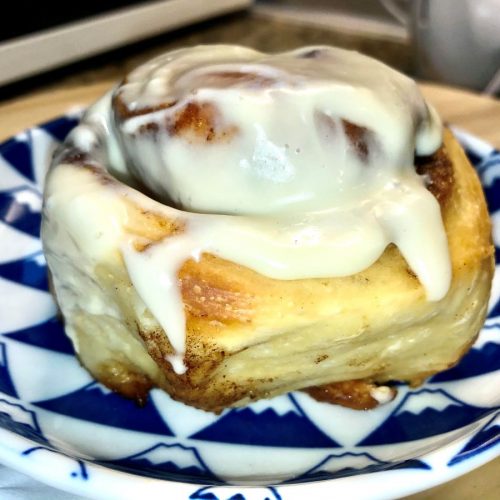 Cinnamon Rolls
Cinnamon rolls deserve your time and attention, but they are not difficult to make. These are soft, squishy, rich, with just the right balance of warmth from the cinnamon and cardamom, then the goo from the buttery brown sugar filling, balanced by the tangy cream cheese frosting.  Please please please ensure you are using high quality unsalted butter, that is fresh and has not absorbed any smells from the refrigerator. In case you wish to get started the night before, the final rise, after dough is rolled and cut, can occur overnight in refrigerator. Just be sure to bring to room temperature before baking.
Jump to Recipe
Ingredients
Dough
6

tablespoons

unsalted butter

,

about 80 grams

1

cup

milk

1

egg

1

egg yolk

1

teaspoon

sea salt

1/2

cup

sugar

4 1/4

cup

bread flour

2 1/2

teaspoons

instant yeast
Filling
7

tablespoon

unsalted butter

,

about 100 grams, room temperature

1

cup

brown sugar

2 1/2

tablespoons

cinnamon

1

teaspoons

cardamom

1/2

teaspoon

salt
Frosting
8

oz

cream cheese

,

room temperature, about 113 grams

1

cup

powdered sugar

1/2

teaspoon

vanilla

1

tablespoon

milk

1

pinch

salt
Instructions
Dough
1. In a pot, add the butter and gently melt on low heat. Once melted, turn off heat and move pot off heating element. Pour in the milk and stir. The residual heat of the pot and the melted butter will gently warm the milk. Pour into small bowl, allowing to cool slightly. If this were to remain in the hot pot, it would be too hot and become gummy when mixed into the flour.

2. In a small bowl, whisk the 1 egg and 1 egg yolk.

3. In a large bowl, add the salt, sugar, flour and yeast. Whisk to combine.

4. Temper the egg with butter/milk mixture. Slowly add 1 tablespoon of the melted butter/milk mixture to the egg, quickly whisking to combine. Then continue to add one tablespoon at a time, whisking to combine. Once the egg seems sufficiently warm, pour the egg into the butter/milk and whisk to combine.

5. Pour the wet ingredients into the dry ingredients and use a rubber scraper to mix and incorporate into sticky lump ready for kneading. Depending on your climate, you might need to add an extra tablespoon or more to the dough. I knead inside the bowl, but feel free to place dough onto a floured surface and knead by hand, or in a mixer. Continue to knead until the slightly sticky mixture no longer sticks to the sides of the bowl and can maintain a ball, losing all of the shards and sticky bits. Place the dough in a separate large bowl, lined with small amount of oil. Cover with plastic wrap, place bowl in oven (NOT turned on) and let rest for approximately 1 hour, until dough doubles in size.
Filling
1. In medium bowl, add butter, brown sugar, cinnamon, cardamom and salt. Use a fork to combine. This won't work if your butter is not room temperature. The mixture will be gritty from the sugar and look like a dark sludge. Set aside while waiting for the dough to rise.
Rolling out dough, smearing on filling, rolling and cutting
1. Butter the bottom and sides of a 9 x 13 baking pan.

2. Cut 4-6 three inch strips of baking or parchment paper. These can then be cut smaller to place between the rolls when placed in pan to keep them from sticking to one another as they rise and later cook.

3. Once dough is risen, remove from bowl and place on lightly floured rolling mat. Roll out dough to rectangular shape approximately 10 x 15. Smear the filling over the entire surface of the dough.

4. Roll the dough lengthwise, as tightly as reasonable. Cut in slices about 1 1/2 inches wide. Place each in pan. Work the strips of parchment paper between the rolls. Cover in plastic wrap, place pan in oven (NOT turned on) for approximately 20-30 minutes, for another quick rise.

5. Remove pan from oven. Turn ON oven to 350. Once oven is hot, remove the plastic wrap and place in oven. Check after 18-20 minutes.
Frosting
1. In large bowl, add the softened cream cheese, powder sugar, vanilla, milk and salt. Use a hand mixer to whip into frosting, ensure no lumps remain. Taste and see if a bit more vanilla is needed.
Finishing Touches
After the rolls are dry to the touch and slightly browned, remove from oven. Remove parchment paper, slather on frosting and enjoy!
---