Ribollita – Tuscan Bean and Vegetable Soup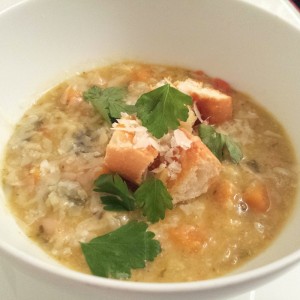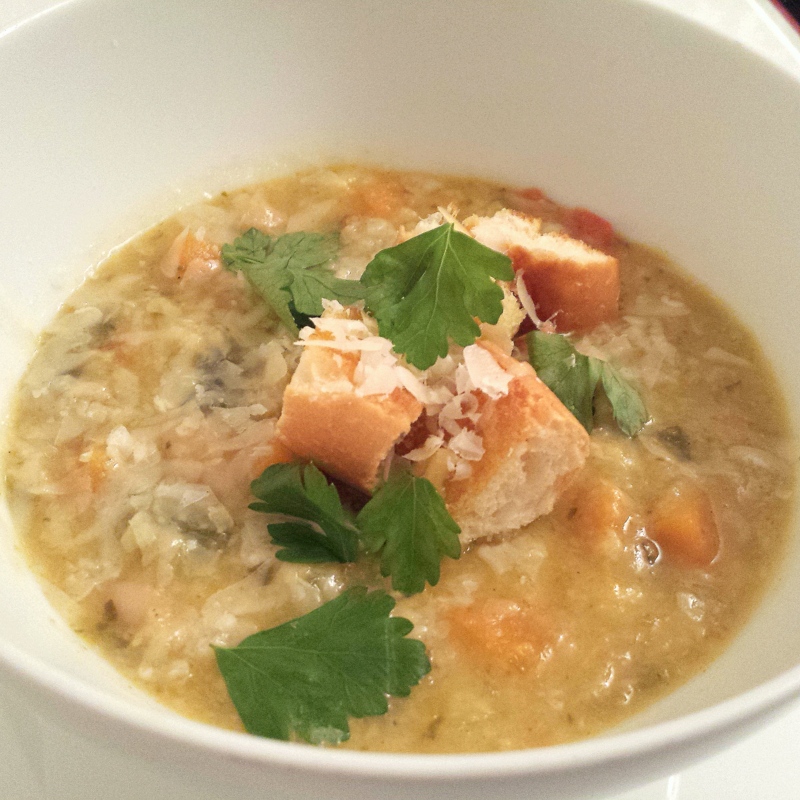 Clearly the translation will not sound appealing, as Ribollita means reboiled. Who would like a bowl of reboiled for dinner? Doesn't sound quite as appealing when translated.  Even better, the consistency of this "soup" is thicker and well, more mushy than soup, so who would like a bowl of reboiled mush for dinner?
If you've been to Tuscany, you may have had this dish as it is one of the regional specialties.  Traditionally, Ribollita contains dark kale (cavolo nero), leftover bread, beans and vegetables.  I first tried Ribollita in Siena, Italy.  I spotted it in the ready made section of a deli, packed in a rectangular plastic take away box, not typical soup packaging.   I was willing to eat it cold, but thankfully the shop owner heated it up in the microwave, popped the lid off, drizzled olive oil and a sprinkle of parmesan on top.   I loved the thick garlicky richness of the creamy white beans mixed with the greens and vegetables.
Upon my return to the US, I turned to Lidia Bastianich for inspiration.  I continue with her tricks for smashing garlic cloves and leaving them whole, adding a Parmesan heel to the soup and serving with a drizzle of olive oil.   Instead of Cavolo Nero, I use chard, which is plenty hard to find in Hong Kong.   I use canned beans since I was never able to get dried beans to soften while soaking overnight.  My secret for Ribollita is not stale bread, but rather garlic rubbed toasted baguette.  When making the garlic rubbed toasts, I have to make a double batch as Shane eats half of them before I have a chance to add them to the soup.
Ribollita - Tuscan Bean and Vegetable Soup
Soup can be made and eaten in same day, but consistency will change by day 2 due to the addition of the bread.  We like it this way, but I usually have to thin with a bit of water for my son, as otherwise it doesn't appear to be "soup," in his opinion.   The soup begins like most, sautéing carrot, onion and celery then adding garlic and remaining vegetables and beans.  Please don't skip the final step of slicing open a baguette, running it under the broil, drizzling with olive oil then rubbing with garlic.  Once you stir these garlicky infused toasts into the soup, you will appreciate the burst of garlic.  Save a few croutons for the top of soup as garnish along with a parsley, Parmesan and extra virgin olive oil.
Jump to Recipe
Ingredients
3-4

tablespoons

extra virgin olive oil

1

yellow onion

,

diced

1

carrot

,

diced

2

celery stalks

,

diced

10

garlic cloves

1

red bell pepper

,

diced

1

yellow bell pepper

,

diced

1

green bell pepper

,

diced

2

dried bay leaves

1

quart

chicken broth

1

bunch

chard

,

stems removed and roughly chopped

1

can

cannellini beans

,

drained and rinsed

1

parmesan cheese heel

1/2

teaspoon

salt

1/8

teaspoon

black pepper

1

baguette

1

bunch

flat leaf parsley

1/2

cup

parmesan cheese

,

shredded
Instructions
In a large dutch oven or soup pot, add 2 tablespoons extra virgin olive oil (or enough to coat the bottom of your pot) and set flame to  medium heat.  Once heated, add onion, carrot and celery and gently cook until soft, but not brown, about 5 minutes.  Dice 6 cloves of garlic, smash (and leave whole) 2 cloves of garlic, and peel and set aside the remaining 2 cloves of garlic.  Push vegetables to the side of the pot and add the 6 cloves diced garlic, cooking until just fragrant, then stir together the contents of the pot.  Add the red, yellow and green peppers and continue cooking for another 2-3 minutes.  Add the 2 smashed garlic cloves, bay leaves, chicken broth, chard, cannellini beans, Parmesan heel, salt and pepper.  Add a cup of water if needed, if the soup looks as if they vegetables do not have enough room to freely simmer.  Raise heat to high, bring to boil, cover with lid, then reduce flame to low heat and simmer for 30 minutes, then turn off heat.  While the soup is simmering, slice baguette in half lengthwise.  Turn on oven to 400 Fahrenheit.  Place bread on baking tray and keep an eye on it.  After the bread starts to brown, turn the bread over to brown the other side.  Pull out when brown on both sides.  While bread is still hot, drizzle extra virgin olive oil on the cut side of the baguette.  Take a whole garlic clove and rub back and forth across the toasted, oiled bread.  The garlic will start to melt into the warm toasted bread.   Once cool, cut the baguette into chunks.  Place about 1/3 to 1/2 of the chunks into the soup and let sit 20 minutes before serving, or overnight in refrigerator.  Reheat (reboil!) next day.  Before serving, remove bay leaves and Parmesan cheese heel, then emulsify a few pulses to break down some of the chunks and create some thickness.   Adjust for final seasoning.  Serve with croutons, parsley, shredded Parmesan cheese and a drizzle of extra virgin olive oil across the top.
---