Pasta Carbonara with Peas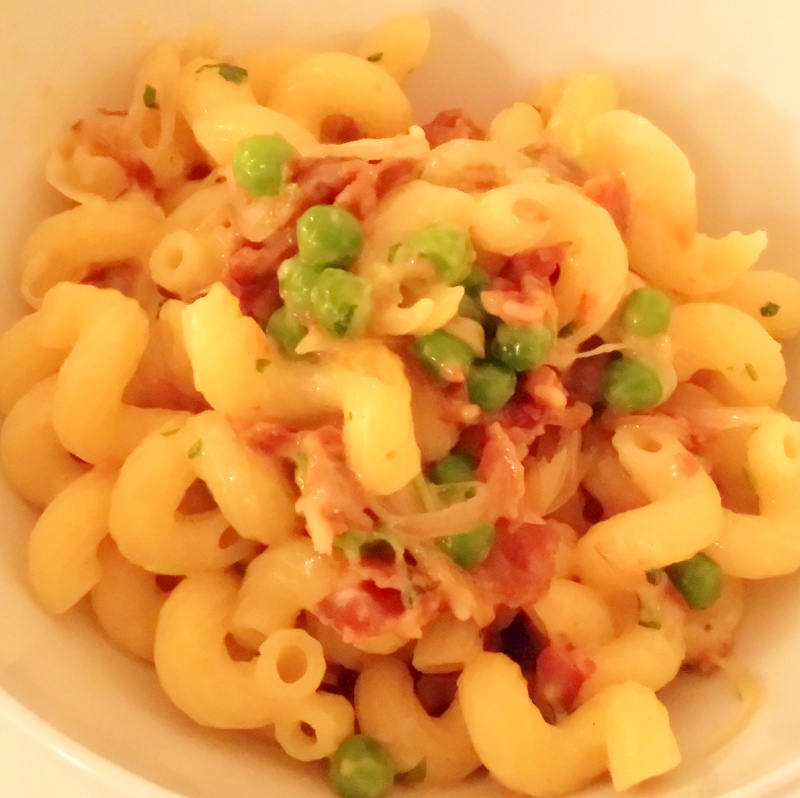 Traditional Carbonara does not have peas or cream, onions or garlic, but this is the version that our family loves, and since it has bacon and eggs…what else could we call it?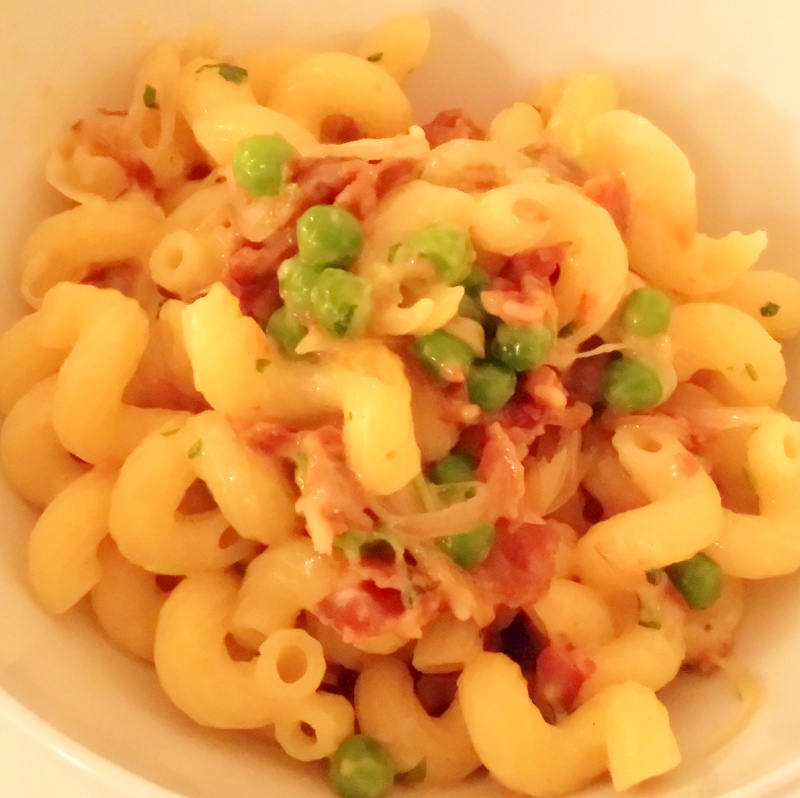 Pasta Carbonara with Peas
Cooking bacon in the oven ensures that all pieces are cooked evenly.  I hate cooking bacon in the skillet as I find that it goes wavy and thus cooking part of the strips while leaving some raw parts.  Cooking the onions, shallots and garlic in the bacon fat, adds a nice layer of flavor. It is crucial the egg yolks and cream are room temperature, or at least not refrigerator cold when you add the pasta.  Also, do not cook the pasta until you are sure that everything else is ready to go, including your family nearing the table!  Best to serve on a warmed bowl to keep the pasta warm for that much longer.
Jump to Recipe
Ingredients
12

ounces

bacon

1 1/2

cup

frozen peas

4

egg yolks

1/2

cup

whipping cream

1

cup

parmesan cheese

,

shredded

1/4

cup

flat leaf parsley

1/4

teaspoon

salt

1/8

teaspoon

black pepper

1

yellow onion

,

thinly sliced

6

shallots

,

thinly sliced

4

garlic cloves

,

smashed but kept whole

1

pound

pasta
Instructions
Set oven to 400 Fahrenheit.  Bring large pot of salted water to boil.  Measure the frozen peas and set aside.  Place strips of bacon on foil lined baking tray, bake until golden on both sides, about 10 minutes.  While the bacon is cooking, peel the onion and shallots.  Cut the onion in half and thinly slice.  Cut the shallots in half lengthwise, then thinly slice.  One at a time, place a garlic clove on cutting board, place heavy knife on clove sharp side pointing away and pound the side of the knife with your fist. The paper of the garlic will jump off and then you will have a smashed yet whole clove of garlic.  Roughly chop the flat leaf parsley leaves.  In large glass or metal bowl (one large enough to accommodate the eventual addition of the pasta), whisk egg yolks, whipping cream, Parmesan cheese, parsley, salt, few grinds of black pepper.  To take the cold edge off the eggs and cream, place the bowl atop oven and whisk periodically, as best if egg yolks and cream are closer to room temperature.  Another idea, is to periodically set the bowl over the boiling water for 30-45 seconds at a time, whisking the whole time.  Once bacon is done, place bacon strips on paper towels to drain, then roughly chop or crumble with your hands.  Pour bacon fat (about 1-2 tablespoons) into medium sized skillet.  Turn on skillet to medium heat, add sliced onion and sliced shallots.  Gently cook for about 3-4 minutes, ensuring that onions and shallots do not burn.  Add the whole crushed garlic cloves and continue to cook until fragrant and onions are soft and golden, about another 3 minutes.  Turn off heat, remove the garlic cloves as they are no longer needed.  Add pasta to salted boiling water, get your peas handy.  Add the peas in the final 2 minutes of the allotted cooking time before draining pasta.  Also, pull out 1/2 cup of starchy pasta water.  To the egg/cream bowl, quickly whisk in about 1/4 cup of the hot starchy pasta water, then add the onion, shallot, garlic mixture.  Drain pasta and peas and immediately add to the bowl.  Working quickly, use tongs to coat the pasta with the sauce, adding more starchy water bit by bit, if needed, to loosen the sauce.  Stir in the bacon.  Serve immediately on warm bowls, with additional shredded Parmesan cheese.
---