Moroccan Chicken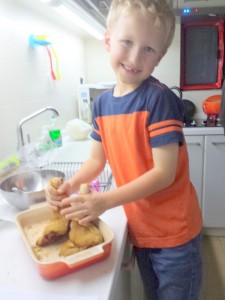 We were in the mood for some sort of Moroccan/Tagine type of chicken. Quickly ruled out anything requiring preserved lemons as it would take all day to locate them, if at all. It seemed that the spices in various recipes differed greatly, some with cumin or turmeric or paprika and others not. Most had cinnamon and ginger (fresh or ground). In the end, we decided to make our own spice mix, adapted from Ras El Hanout ….cleverly leaving out the ingredients we didn't have and ended up with the version in this recipe. The end result is warm, sweet and savory, earthy, slightly smoky and ever so wonderful. The garbanzos absorb so much flavor and bring a nice texture in contrast to the snap of toasted almonds. You won't taste the apricots or raisins but their sweet tones complement the savory spices.
Jackson loves to scoop and measure so he mixed our batch of Moroccan Spice Mix. He then enjoyed coating the chicken with the spice mix, massaging the spices into every fold of the chicken.
Clearly you could serve this over rice or cous cous, but we LOVED it served with Yotam Ottolenghi's Cauliflower Fritters.
Additionally inspired by Epicurious
Moroccan Chicken
Put together a million spices from your cupboard, sear chicken, sauté onion and garlic, dump in the rest, simmer - voila!  Sometimes canned garbanzos need some time to disassociate from their canned taste, so this dish can be made ahead and then be reheated.  It gets better and better.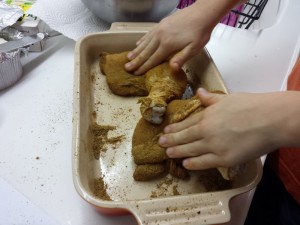 Jump to Recipe
Ingredients
Moroccan Spice Mix
2

teaspoons

ground ginger

2

teaspoons

ground cardamom

1

teaspoon

ground cinnamon

1

teaspoon

allspice

1

teaspoon

salt

1

teaspoon

ground coriander

1

teaspoon

ground nutmeg

1

teaspoon

ground turmeric

1/2

teaspoon

ground black pepper

1/2

teaspoon

ground white pepper

1/4

teaspoon

ground cayenne

1/4

teaspoon

ground cloves
Moroccan Chicken
1-2

tablespoon

canola oil

4

chicken thighs on bone

4

chicken legs on bone

1

red onion

,

sliced

2

garlic cloves

,

diced

1

can

diced tomatoes

,

14 oz can

1

can

garbanzo beans

,

drained and rinsed

1/2

cup

dried apricot

,

diced

1/4

cup

golden raisins

,

golden preferred

1 1/4

cups

chicken broth
Garnish for color and crunch!
1/2

cup

toasted sliced almonds

1

bunch

fresh cilantro leaves
Instructions
First make the Moroccan spice mix.  Measure all dry spices into bowl, stir with fork to break up any clumps.  Set aside 1 tablespoon of the spice mix.  Next begin preparing the Moroccan Chicken.  To the spice mix bowl, dredge chicken in spices, coating on all sides with spice mix.  Throw out any potential leftover spices as they will be contaminated with raw chicken.  Let chicken sit 20-30 minutes if possible.  Heat large dutch oven or covered casserole pot on medium high, add canola oil - enough to coat the bottom of skillet.  Once pot is hot, brown chicken (without crowding too many pieces in pan at once) quickly on both sides, about 2-3 minutes per side.  Once browned, remove chicken from pot, turn off heat.  Wipe out any accumulated burned spices if needed.  Turn flame back on to medium heat.  Add more canola oil as needed.  Add sliced red onion and gently cook until softened, about 3 minutes.  Add diced garlic and cook until fragrant, about 30-60 seconds then add the canned tomatoes (along with their juices), rinsed and drained garbanzo beans, apricots, golden raisins, chicken broth and the previously set aside 1 Tablespoon spice mix and seared chicken.  Bring to a boil, place lid on, reduce to low flame and simmer for 45 minutes total.   After the initial 30 minutes of simmering, move lid slightly ajar to allow some of the steam out and sauce will thicken ever so slightly.   Adjust for salt and pepper.  Serve with a garnish of toasted almonds and fresh cilantro leaves.
---