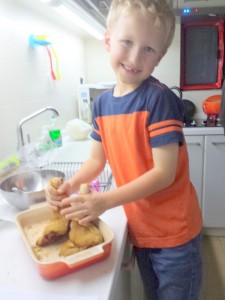 We were in the mood for some sort of Moroccan/Tagine type of chicken.  Quickly ruled out anything requiring preserved lemons as it would take all day to locate them, if at all.  It seemed that the spices in various recipes differed greatly, some with cumin or turmeric or paprika and others not.   Most had cinnamon and ginger (fresh or ground).  In the end, we decided to make our own spice mix, adapted from Ras El Hanout ….cleverly leaving out the ingredients we didn't have and ended up with the version in this recipe.   The end result is warm, sweet and savory, earthy, slightly smoky and ever so wonderful.   The garbanzos absorb so much flavor and bring a nice texture in contrast to the snap of toasted almonds.  You won't taste the apricots or raisins but their sweet tones complement the savory spices.
Jackson loves to scoop and measure so he mixed our batch of Moroccan Spice Mix.  He then enjoyed coating the chicken with the spice mix, massaging the spices into every fold of the chicken.
Clearly you could serve this over rice or cous cous, but we LOVED it served with Yotam Ottolenghi's Cauliflower Fritters.
Additionally inspired by Epicurious