Pot Stickers – Pork Dumplings
When I was a kid, we called dumplings, "Pot Stickers," but I guess now we have adjusted to calling all Asian noodle wrapped parcels either boiled, steamed or fried as dumplings.   We tend to stick to the pork and chive or green onion variety when we eat out, which is pretty easy to replicate at home.  Also the kicker is to serve them with Chinkiang Vinegar, which is the color of soy sauce but has the zing of vinegar with a darker, richer, hint of smoke.
We are lucky to have a noodle factory nearby in Wan Chai, which sells fresh noodles by the catty.  I learned that a catty is just over a pound, which turned out to be about 70 wrappers.  The kids and I bought 1 catty of fresh dumpling wrappers, and 1 catty of fresh fujian noodles – not sure what to do with these but they looked good.  So for the equivalent of $3.50 USD, we have over a pound of dumpling wrappers (also good for tortellini) and fresh noodles.  Pretty amazing.
Pot Stickers -Pork Dumplings
Hopefully your local grocery store has won ton wrappers in the cold case, as I am not sure that everyone lives near a Chinese Noodle Factory.   I have viewed many recipes for dumplings and thus have adapted from
Ming Tsai
 for the flavors we like.  Ground pork,
grated
ginger and
grated
garlic (use a micro planer to avoid biting into chunks of garlic or ginger), green onions, and a soft cabbage such as Napa or Savoy in the mini-processor mixed together with seasonings and that is it.  Be careful with sesame oil.  Look at the back of the bottle, some contain sesame flavored oils, yuck.  You want the 100% pure sesame oil.  Then, time to stuff, moisten the edges, fold and crimp.  So one dumpling press for Jackson (for crimping) and forks for Olivia and me.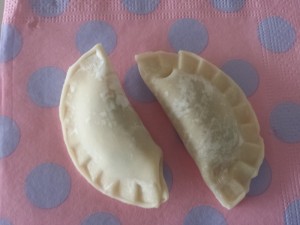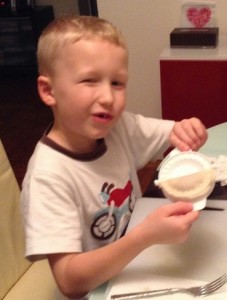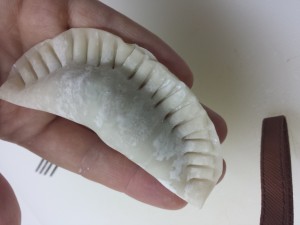 Jump to Recipe
Ingredients
1 1/2

cup

napa or savoy cabbage

,

chopped

1/2

teaspoon

salt

1 1/4

pound

ground pork

2

tablespoons

fresh ginger

,

grated

1

tablespoon

garlic

,

grated

2

tablespoons

unseasoned rice wine vinegar

2

teaspoons

pure sesame oil

1

tablespoon

soy sauce

12 - 14

green onions

,

minced
Instructions
Filling:
Wash, chop and place all but the hard end of napa (savoy) cabbage in a strainer over sink.  Sprinkle with about a teaspoon of salt, toss gently and let sit for 10 minutes to start extracting some of the liquid from the cabbage.  In a large bowl, add the ground pork.  Grate the ginger and garlic then add to the pork.  Add the rice wine vinegar, sesame oil and soy sauce to the pork and gently mix to incorporate.  Cut the green onions in thirds and place in a food processor.  (In my processor, the green onions get tangled around the post if I don't break them down into smaller chunks first.)  Squeeze the cabbage to release as much of the liquid as possible.  Add the cabbage to the food processor.  Pulse the green onions and cabbage until no large bits remain.  Add the cabbage and onion mix to the pork and again mix to incorporate.
Stuffing and crimping:
Fill a small bowl with water and set next to dumpling wrappers, pork filling and a baking tray covered with baking paper.  Place one wrapper in the crimper or on cutting board.  Place about 1 to 2 teaspoons filling in the center, enough to allow space to crimp without filling squishing out the sides, you'll find this out quickly by trial and error.  Dip finger in water and spread your wet finger around the perimeter of the entire wrapper.   Then fold in half into half moon shape.  Seal tightly with crimper or fork.  Place dumplings on baking paper, with ample space between them to avoid sticking to each other.

To cook, add about a tablespoon of canola oil to a frying pan (nonstick is easiest) set to medium heat.  Place dumplings in skillet flat side down, allowing them to develop a brown crust but keep the pan shaking a bit so they don't stick.  After you see the a bit of golden brown, pour in enough water to reach up 1/3 of the side of the dumplings, immediately cover with lid, reduce to low and simmer for about 3-5 minutes until water almost all evaporated.  Remove lid and give them another shake and let the final moisture cook off so the dumplings aren't soggy.  If you do not wish to pan fry, gently boil dumplings in water for about 3 minutes.

We like dumplings served with Chinkiang Vinegar, green onions and either lettuce or cabbage for a bit of contrasting crunch.

These freeze great, BUT, be sure to freeze each dumpling individually, ideally on a tray.  After they have frozen, the dumplings can all be placed together in a freezer safe bag.  If they are not frozen individually first, they will clump together.  To cook, follow same process as above, however you might need a bit more water.
---