Croque Madame Casserole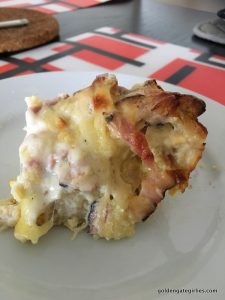 I love Croque Monsieurs and Croque Madames.  I love the creamy sauce oozing over the crunchy corners of bread and the salty smoky ham inside.  For the Croque Madame, I love the fried egg cooked in a hot buttered skillet, then slapped on top of the freshly broiled sandwich.  Unfortunately, making multiple croques simultaneously at home is not convenient, and then neither Olivia nor Jackson will have anything to do with a fried egg. Sigh.
This dish consolidates the flavors of Croque Madame; egg, ham, gruyere and a creamy béchamel augmented by honey mustard, gruyere cheese and a hint of nutmeg.  I find cubing the bread helps reduce any sharp corners of crust and they better absorb the custard mixture.
Recipe adapted from Rachael Ray's Croque Monsieur Casserole
Croque Madame Casserole
The cubed bread does well to absorb the eggy custard mixture over a minimum of 15 minutes but can sit longer if needed. Please note, the milk, cheese and honey mustard is used both in the custard mix that bread soaks in, as well as in the béchamel sauce.  To substitute store bought honey mustard, use equal parts Dijon mustard mixed with honey.
Jump to Recipe
Ingredients
4

eggs

1 1/4

cup

whole milk

1

baguette

,

cubed

1/2

teaspoon

salt

1/8

teaspoon

black pepper

1

tablespoon

honey mustard

3-4

slices

black forest ham

3/4

cup

gruyere cheese

,

shredded
Béchamel sauce
1

tablespoon

butter

,

unsalted

1

tablespoon

all purpose flour

1

cup

milk

,

gently warmed

1

tsp

honey mustard

1/4

tsp

salt

1/4

cup

gruyere cheese

,

shredded

1/8

tsp

nutmeg
Instructions
Turn oven on and set to 400 degrees Fahrenheit.

In large bowl, whisk eggs, 1 1/4 cup milk, 1 TBL honey mustard, 1/2 tsp salt and few grinds of pepper.  Cube baguette and toss into egg/milk mixture.  Keep an eye on the bread cubes, stirring every few minutes to ensure all cubes equally absorb the bulk of the custard mixture, 10-15 minutes.  Shred the cheese on side of box grater - 3/4 cup will be sprinkled onto casserole, and 1/4 cup will melt into the béchamel sauce.  Stack the slices of ham on top of each other, roll lengthwise, then slice across the width, similar to chiffonade of rolled basil leaves.
Béchamel Sauce:
In small heavy saucepan, add 1 TBL butter on low heat.  Once melted, add the 1 TBL flour and whisk to incorporate, but do not let brown.  Measure 1 cup milk, gently warm in microwave to a tepid temperature.  While continuing to whisk and once the butter flour mixture no longer smells of raw flour and is gently bubbling, slowly pour in the warm milk - do not stop whisking.  If needed, turn up heat to medium.  Sauce will gently thicken.  Once it starts to bubble, turn off heat.  Whisk in 1 tsp honey mustard, 1/4 tsp salt, 1/4 cup of shredded gruyere cheese, and nutmeg.  Give a quick taste to adjust for salt as needed.
Assemble the casserole:
Butter a 9 inch square dish.  Pour the cubed bread and egg/milk mixture into pan.  Sprinkle the ham across top.  Then sprinkle the remaining 3/4 cup gruyere cheese.  Next, carefully pour the béchamel sauce across the top.  Bake uncovered @ 400 for 40-45 minutes.  Check after 25 minutes, and if top is starting to brown, cover with foil.  Check with toothpick to see if bottom eggy part comes clean with toothpick.  The sauce on top will still be slightly gooey, but that is ok.  Remove from oven and let sit for 10 minutes to set up.
---