Pineapple Pulled Pork Tacos Al Pastor
As I understand it, Al Pastor refers to the method of cooking sliced pork topped with fresh pineapple in a vertical roasting style similar to shawarma, however, we are accustomed to referring to anything marinated with chiles, spices and pineapple as Al Pastor.   Pork shoulder marinated overnight and then roasted whole,  fork pulled apart into shreds and placed back in the (boiled) marinade gets better by the day.   Serve with fresh guacamole, pineapple salsa and warmed corn tortillas.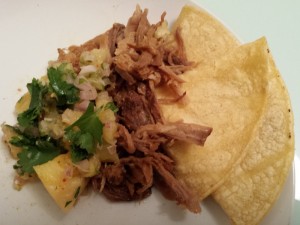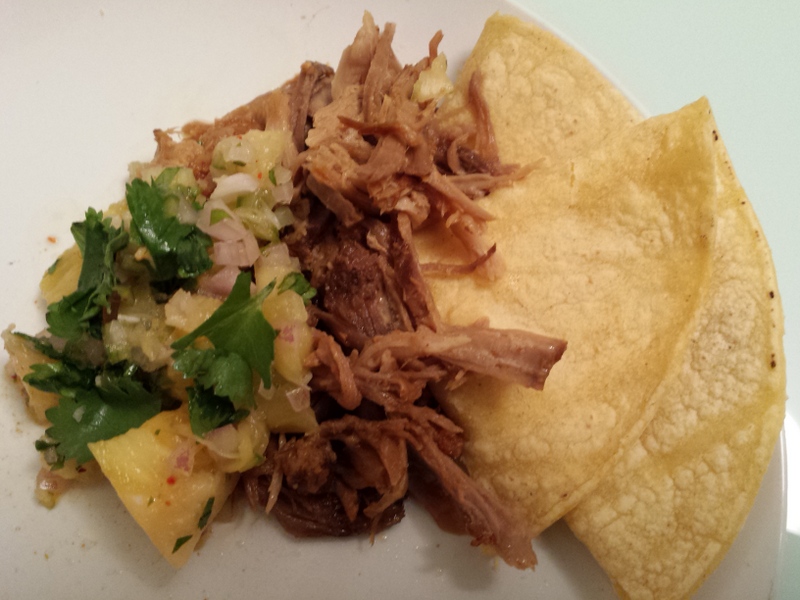 Pineapple Pulled Pork Tacos Al Pastor
Since the pork marinates overnight, I use canned pineapple.  If you go all fancy and use fresh pineapple or fresh unpasteurized pineapple juice in the marinade, the exterior of the meat will get mushy and start breaking down.  Puree the ingredients in a mini processor, pour marinade over pork and let sit in refrigerator overnight.  Slow roast, then shred and enjoy.  Each step is easy, but there is time involved. Inspired by
Epicurious
Jump to Recipe
Ingredients
1

can

pineapple

,

8 oz can, chunks

1/3

cup

pineapple juice

,

from can of pineapple chunks

1/3

cup

apple cider vinegar

8

garlic cloves

2

teaspoons

salt

2

teaspoons

dried guajillo chile powder

1

teaspoon

ground coriander

1

teaspoon

adobo sauce

,

from canned chipotle in adobo

1

yellow onion

4

pound

boneless pork shoulder

4

fresh pineapple spears
Instructions
In a food processor, add canned pineapple and juice from can, pineapple juice, apple cider vinegar, garlic, salt, guajillo, coriander, canned chipotle and chipotle sauce then puree until all chunks are smooth.  Pour out into small bowl.  The liquid will start to separate from the chunky pineapple puree.  Slice the onion into 5-6 thick slices and place flat next to each other in center of 9x13 baking dish.  Place the pork shoulder on the bed of onions.   Using a slotted spoon, scoop out the pineapple puree and pat onto all sides of the pork.  Pour enough juice from the processor over and around the pork,  ensuring that there is just enough liquid to cover bottom of dish.  Set aside remaining marinade in refrigerator.  Lay the fresh pineapple spears in pan.  Cover tightly with 2 layers of foil, rest in refrigerator overnight or 8-10 hours.  When ready to cook the pork, set oven to 300 Fahrenheit.  Take pork out of refrigerator, keep foil on, and let rest 20-30 minutes.  Cook for  7-8 hours, do not pull back foil to peek.  After 7 hours, push on the foil covered meat to check doneness.  If squishes easily, it is done.  If there is still resistance, keep cooking.  After pulling out of oven, remove foil and let meat rest 20 minutes.   Remove the pineapple spears. The onion bed will have melted into the pork and shred easily.   Pour all juice from the pork into pot along with the reserved marinade,  bring to boil, then reduce to simmer for 2-3 minutes.  Skim off fat.  Fork shred the pork, then pour the cooked marinade over the meat.  Serve with pineapple salsa, guacamole and warm corn tortillas.  This will get better by the day.
---