Indian Eggplant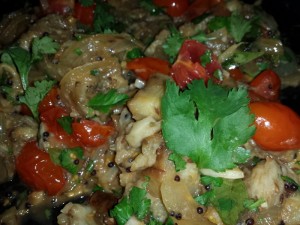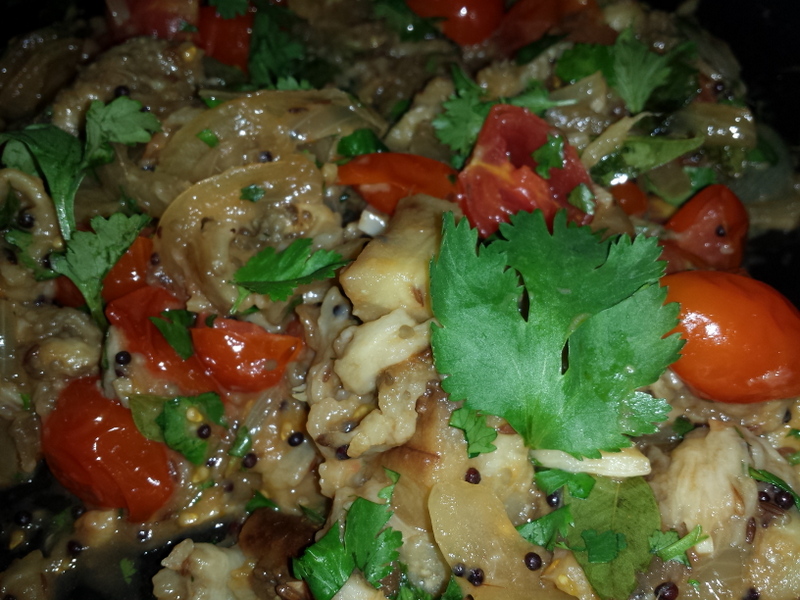 While cooking Indian food for dinner, I realized that the Chana Masala (garbanzos) already contained many of the same spices required for Bainghan Bharta,  (Indian roasted eggplant) such as tomato, turmeric, garam masala and dried coriander.  So, one mushy dish was enough, we certainly didn't need two mushy dishes with identical flavors.  This version was adapted from Madhur Jaffrey's Indian Eggplants in a North-South Sauce, as featured on Epicurious.com.
Indian Eggplant
The Japanese eggplants in the Hong Kong markets, are much longer than the type I recall seeing in the US.  As such, I have listed the associated weight to help gauge appropriate amount.   Broiling the eggplants in the oven and watching them change from bright purple to wrinkly, dark and blackened seems counterintuitive, but that is the best way to emulate the smoky char from an outdoor bbq grill.  Everything else gets cooked within 15 minutes in a pan.
Jump to Recipe
Ingredients
4

pounds

Japanese eggplants

2

tablespoons

canola oil

1

teaspoon

black mustard seeds

1

teaspoon

cumin seeds

1

yellow onion

4

garlic cloves

1

tablespoon

fresh ginger

,

grated

12 -15

fresh curry leaves

2

cups

cherry tomatoes

,

sliced in half

1

bunch

cilantro

1

lemon

,

juiced
Instructions
Set broiler to high, place oven shelf in the upper middle area of oven.  Rub eggplants with canola oil, place on baking tray, and turn every 10-15 minutes to ensure blackened on all sides, about 30-40 minutes total.   Once eggplants are cool enough to handle, remove the outside skin and cut the eggplant large chunks and set aside.   In large skillet, add oil and turn flame to low heat.  Once oil is warm, add mustard seeds and cumin seeds stirring gently until the seeds start jumping in the skillet, about 30-60 seconds.  Add the sliced onions, turn heat up to medium and continue to stir while the onions gently soften and go a bit golden brown, about 5 minutes.  Once the onions are soft, add the garlic,  ginger and curry leaves.  Keep stirring for another 2-3 minutes to ensure nothing is sticking or burning.   Add the sliced cherry tomatoes, gently fold to incorporate.  Once the tomatoes look close to bursting open, add the reserved eggplant and gently stir 3-4 minutes.  Turn off heat.  Cut lemon in half and squeeze the juice over the eggplant.  Add the cilantro, gently stir to incorporate, then serve.
---