Chicken with Wine, Shallots and Mushrooms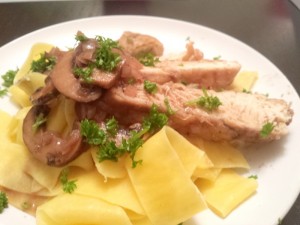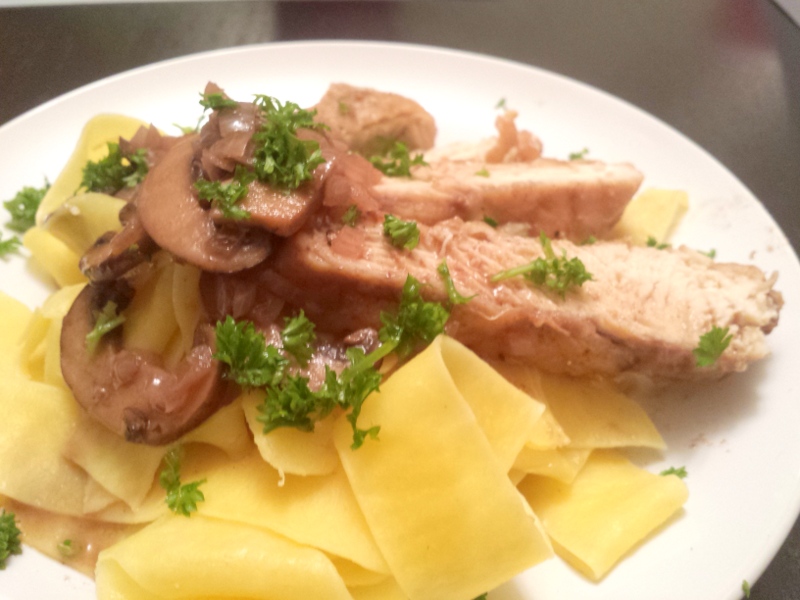 Even if you think that this is too brown looking or boring for you, you might want to reconsider, if only to create a yummy rich fragrance for your home.  There is nothing better than butter, wine and shallots bubbling away.   I don't usually like mushrooms but since they absorb all of the buttery wine sauce, and Olivia loves them, here they are.  Serve the chicken how you like – but we love buttered (obviously) egg noodles.  The softness of the egg noodles makes such a gorgeous blanket for the chicken and mushrooms.  Parsley obviously is the departure from the everything brown look.
Chicken with Wine, Shallots and Mushrooms
I use one skillet to cook this dish, but the ingredients will be cooked and removed from skillet in stages and please note that the butter is used for multiple stages.   I have experimented with three different red wines (Pinot Noir, Veronese and Zinfandel) and all have worked well.  If you are lucky enough to find Italian flat leaf parsley great, I however only found the old school curly type at my Hong Kong store this week.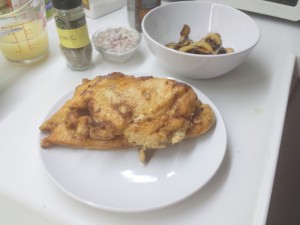 Jump to Recipe
Ingredients
4

chicken breasts

,

boneless, skinless

1/2

teaspoon

salt

1/8

teaspoon

black pepper

2-3

tablespoons

flour

6-8

crimini mushrooms

,

thickly sliced

2

shallots

,

diced

1

cup

red wine

1/2

cup

chicken broth

3

tablespoons

butter

,

1

teaspoon

canola oil

1

pinch

dried thyme

1

handful

fresh parsley

,

rough chop
Instructions
Sprinkle the chicken breasts with salt, pepper and flour.  Place breasts between sheets of plastic wrap and gently pound the breasts to ensure an even thickness, about 1/2 inch thick.   Turn on skillet to medium high along with 1 tablespoon butter and 1 teaspoon canola oil.   Once butter starts to sizzle, add the chicken breasts.  Sear until brown on both sides, about 2-3 minutes for first side and one minute on second side.  The chicken will finish cooking in the sauce later.   Turn off skillet, remove chicken and set aside.  If there is a large amount of burned flour in the skillet, wipe it out with a paper towel.   Turn skillet back on to medium flame, add 1 tablespoon butter and the sliced mushrooms gently cook until slightly browned, about 3-4 minutes.  Remove mushrooms from pan and reduce to medium low.  Add 1 tablespoon butter, then once melted add the diced shallots and gently melt them until glossy and soft, about 3-4 minutes.   Add the wine and chicken stock, turn heat up to high and bring to a boil, then reduce to low and simmer for 5-7 minutes until reduced.   Rub the pinch of thyme between your fingers then sprinkle in sauce.  Add the browned chicken and mushrooms and gently bubble away until chicken is cooked through.   Serve over buttered (yes!) egg noodles with bright green parsley.
---