Smoky Cilantro Pesto with Penne and Cherry Tomatoes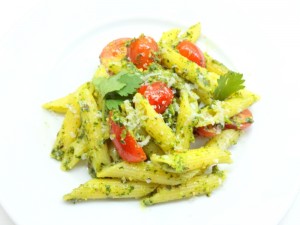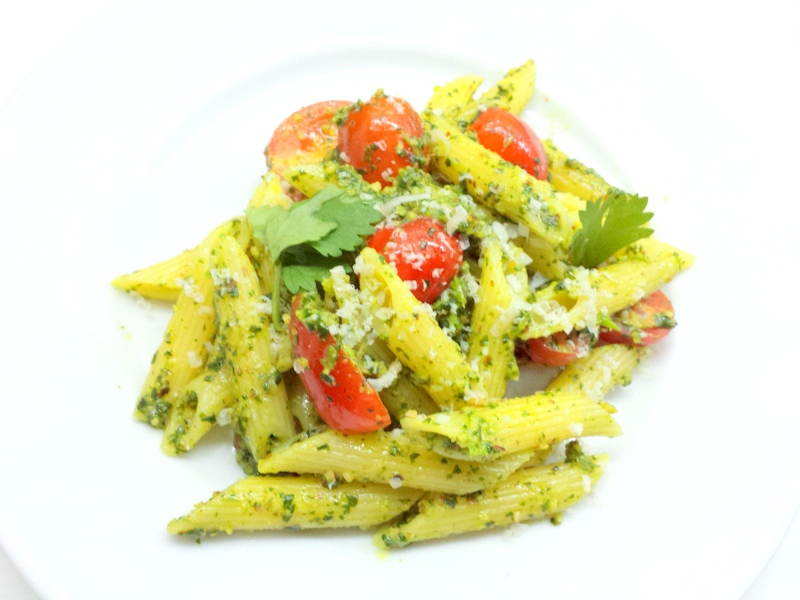 I love love love cilantro.   Swap out basil for cilantro and then replace pine nuts with smoked almonds!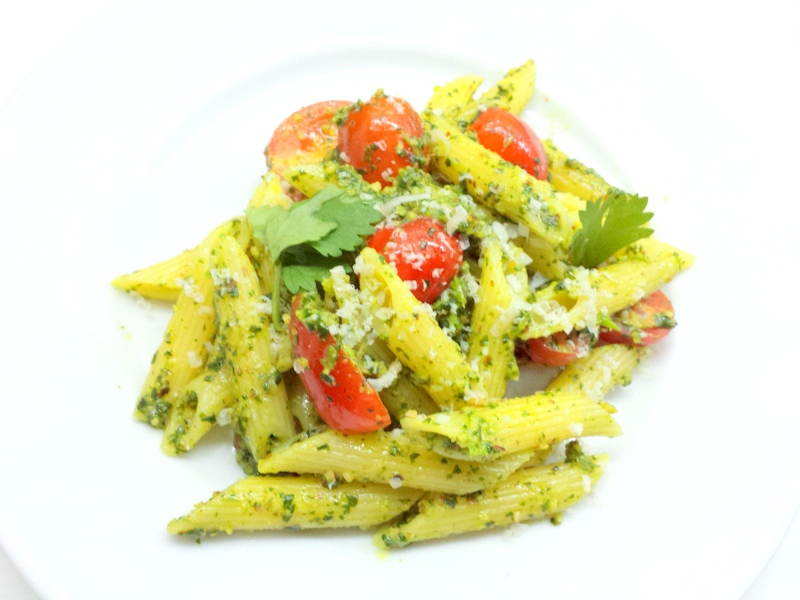 Smoky Cilantro Pesto with Penne and Cherry Tomatoes
While visiting friends in Madison, WI, we were challenged to utilize a bumper crop of cilantro.   We decided to make pesto and decided to use Trader Joe's Mesquite Smoked Almonds in place of the more traditional pine nuts.   Other than a splash of lemon, the other ingredients and method are as expected for pesto.  If not using the pesto immediately, place in bowl and cover with drizzle of extra virgin olive oil and place plastic wrap directly on the surface of the oil covered pesto, otherwise air will likely turn the pesto from green to brown.    Store in refrigerator.
Jump to Recipe
Ingredients
1

pound

penne pasta

4

cups

cilantro

1/3

cup

smoked almonds

2

garlic cloves

1/3

cup

parmesan cheese

,

shredded

1/8

teaspoon

sea salt

1 1/2

teaspoon

lemon juice

4

tablespoons

extra virgin olive oil

2

cups

cherry tomatoes
Instructions
Fill large pot with water (enough to ensure that the pasta will boil freely), a teaspoon of salt, cover with lid to bring to boil quicker and set on high flame.   While water is coming to a boil, pull as much of the cilantro leaves off from stems as possible, however, some stems are just fine (and flavourful) but too many stems may tangle around the post inside food processor.  In a food processor, add smoked almonds, garlic, Parmesan cheese, salt, cilantro, lemon juice and extra virgin olive oil.  Pulse until almost smooth and consistency looks grainy.   Halve cherry tomatoes and place in bottom of large pasta bowl along with pesto.  Cook pasta according to directions.   Just before draining pasta, measure out 1 cup of pasta water.  Add 1/4 cup of the pasta water to the sliced tomatoes and pesto, then add the drained hot pasta immediately.  If still seems too dry, add the remaining hot pasta water, 1/4 cup at a time.  Garnish with more Parmesan and fresh cilantro,  serve immediately.
---