Juicy Bacon Cream Cheese Bites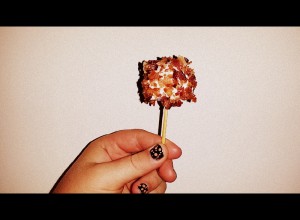 I love the Bacon Cream Cheese Grapes. I made this because it is a delicious appetizer. I was inspired by it when my Grandpa had his 8Oth birthday and we made it with Red Grapes rolled in creamy Blue Cheese and Diced Nuts. Then we worked with what we could easily find in Hong Kong. We made 2 versions and the first one was Bacon with Cream Cheese and Grapes, our second one was Cherry Tomato with Cream Cheese and Bacon. I like the Grape with Cream Cheese and Bacon better then the Cherry Tomato one Because the Cherry tomato is so juicy and it takes over the Bacon and Cream Cheese taste so it tastes just like a Cherry Tomato only, but my mom likes the tomato one as reminds her of a BLT sandwich.
Olivia Age 9
Juicy Bacon Cream Cheese Bites
Once the bacon is cooked, cooled and diced, the other steps are quick and easy.   Make sure the grapes and/or tomatoes are washed and dried so that the cream cheese mixture sticks.
Jump to Recipe
Ingredients
10

strips bacon

1/2

cup

cream cheese

2

tablespoons

milk

1

pinch

salt

1

bunch

red seedless grapes

1

box

cherry tomatoes

toothpicks
Instructions
First set oven to 400 degrees Fahrenheit, cook the bacon on foil lined baking tray for about 10 minutes or until crisp.  Remove bacon, let it cool on paper towels.  Dice bacon into small bits and place in small bowl.   In a mini processor, place the cream cheese, milk and salt and whiz until smooth and a bit runny.  Pour out the cream cheese mixture into a small bowl.  Take either a red grape or cherry tomato, place on toothpick, roll around in cheese, then roll in bacon.
---